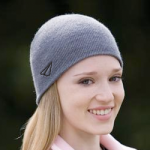 Apparel is still the number one category of promotional gifts and premiums.  If you are considering apparel as holiday gifts for your top clients, take a moment to review these best practices for wearables.
The Soft Sell Survives
Think of the best apparel gift you ever received as a promotional item and chances are, it didn't have a logo pasted across the front of it or a website clearly visible.  Unless your logo happens to contain a "swoosh", your clients are probably not interested in being an army of walking billboards for your brand.  The number one mistake made in apparel is over-branding.  Consider that the objective is to show the client your appreciation for their business and how much you value the relationship.  Your focus should be on their experience as the recipient and not the visibility of your logo.   If it looks like a "freebie", they won't be apt to wear it.
Iconic Value
Instead of your full logo, use just the corporate icon.  Adopt the mentality of clothing designers and recognized brands.  With this subtle approach, you lend a retail feel to your apparel and remove the stigma of free giveaways.  Others may not recognize the icon, but that will give the client even more comfort in wearing it.  It may even be mistaken for the clothing designer's brand, and that's okay -- the client knows who you are and this is not an advertising exercise.
Prudent Placement
Left-chest is the most common logo placement.  It is also a dead giveaway for...um... giveaways.  Fashion-forward branding placement will also help to enhance the retail feel of your promotional apparel.  High on the sleeve, tip of the collar wing, on the back yoke (area below collar) and front corner hemline are super-effective locations to strategically place your logo.  Even better options are zipper pull tabs and inner garment labels.
Tag, You're "IT"
If you really want to make your promotional apparel feel like a retail gift to inspire value and promote use, consider leaving your logo out of the equation.  In fact, you can get name brand apparel from your promotional supplier (Nike, Champion, Danier, etc.) and simply add your branding with a printed hang-tag.  It gives you the option to include a message beyond the logo and truly personalize the gesture.  It might seem odd to give blank apparel, but your client will never forget who gave it to them and they may appreciate the gift even more than a branded piece.
Quality Above All
Giving out substandard apparel is likely to be more detrimental to your image than promotional.  If the clothes make the man (or woman) then your clothes make your company.  The acid test for promotional apparel is to ask yourself, "Would I wear this?".  Gaudy NASCAR caps and tissue-thin "single-use" t-shirts are thoughtless, knee-jerk tactics that will paint your brand as a discount outfit.  Take the same budget and get fewer pieces of a better item, then make them an exclusive line reserved for your top 10% clients only.  Put those details on a hang-tag and stitch your logo on the right cuff and you will have a value-rich apparel gift for your clients this season.
For more strategies on adding sophistication and style to your premiums program, contact us today.  The shopping days are running out!
Thank you for flying sevenfold...
DA