Over the past 20 years, logo design has changed significantly.  Two major factors have contributed to this evolution.  The first is the advent of the internet and the general movement of corporate marketing efforts from printed material to online resources.  In the majority of industries, companies are shying away from expensive collateral printing wherever possible and leveraging email and websites as both cost-efficient and eco-friendly alternatives.  The second major development is the advancement in printing technology and the affordability of high-quality, low-quantity output when printing is an absolute must.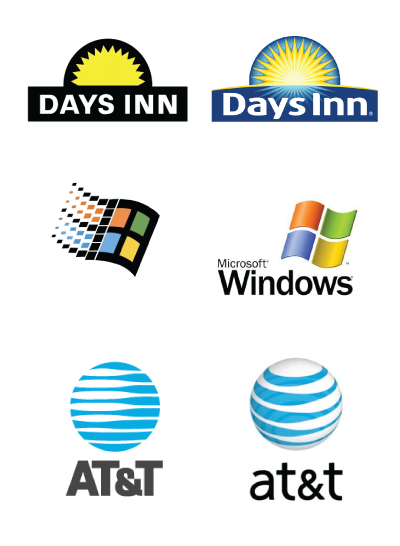 As a result corporate logos have evolved from 2-dimensional spot-colour designs to rich, 3D branding with depth, shading, light play and vibrant hues.  No longer does the designer have to consider the cost of reproduction when creating a look that is 3-dimensional and true to life.  Furthermore, our culture has become so enamored with the high-definition visual media of the web, gaming, video, 3D movies, HDTV and soon enough all our televisions will be in 3D.  Is your logo ready for the new 3D arena?
Shown here are a few examples of brands that have undergone a facelift to match the trends.  Many have made subtle adjustments of shading and shadow to give their logos depth (McDonald's, BMW, Kellogg's) while others have kept a minimalist design but changed the layout to add perspective and dimension (Pepsi, Burger King, MacKenzie Financial).
One of the most popular trends in recent years has been the "reflective floor" effect that adds depth to the white space around the logo and gives a 3D appearance.  It's a bit of a work-around for brands that don't want to change a recognized logo.
If you would like to discuss a makeover for your brand or a new logo design, contact us today for a free consultation.  You can also see a video portfolio of our work for inspiration.
Thank you for flying sevenfold...
DA