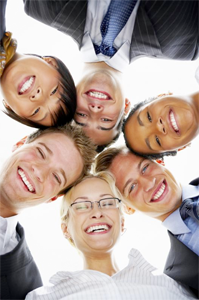 Recently, a client of mine called me in to help them develop a name and a logo for their new customer service web portal.  The system had been in development for some time, but no branding had yet been created  to present to the market.
The first thing they told me was that they had run a contest among their employees to name the new system, but none of the submissions was deemed as usable by management.  They let me review the entire list of submissions and unfortunately, I had to agree with them.  Asking non-marketing staff to develop your branding is a recipe for disaster.  It struck me as a terrible let down for the corporate culture, when in fact it was a well-intended attempt at involving the staff.
It reminded me of when the company that I worked for years ago launched a new logo.  It was unveiled to every office across the continent at exactly the same time as a way to unify over 1,700 employees.  We all knew a new logo was coming, but it was still a bit of a shock to suddenly have a new image that was alien to us.  You could see that management was very excited about the change, having been involved in the development of the new brand and carrying a sense of ownership with it.  The rest of us were merely spectators to this event and the excitement never really caught on.
The corporate brand is the symbol of your company's culture.  Your employees need to carry a sense of pride and ownership to the logo.  My client should have come to me first, to develop a few professionally designed concepts and selected 2 or 3 approved options for the staff to vote on.  This way, the employees see that they are instrumental in the selection of the branding and pick the design that they relate to the strongest.  Unveiling the winner can then be a very unifying event that leaves the employees feeling satisfied, respected and acknowledged.
Get your staff involved in brand development the right way and ensure your brand truly represents your employees.
Thank you for flying sevenfold...
DA
Tagged as: branding, communication, design, direction, employees, logo, marketing, message, relationships, strategies, value
No Comments
Posts Dated
January 2018
M
T
W
T
F
S
S
« Apr
1
2
3
4
5
6
7
8
9
10
11
12
13
14
15
16
17
18
19
20
21
22
23
24
25
26
27
28
29
30
31
Categories
Archives
Tag Cloud
sevenfold links